Curse voice changer is a new fresh wind that blows out a newer, funnier way of enjoying gaming voice chat. Imagine, you can troll your fellow friends and other players online with the voices of Batman, Morgan Freeman, Obama or even anyone with just a simple combination: Curse and AV Voice Changer Software Diamond 9.5 (VCSD9.5).
Curse voice chat is specialized for gaming communication with many professional features. It is currently widely used in famous games like World of Warcraft, LOL (League of Legends), Counter Strike, Overwatch and many more. But did you know? Your fun can be enhanced greatly with the funny voices, audio effects and background effects from Voice Changer Software.
This is a very good way to have fun with your games and also other purposes using Curse for communication. Therefore, Call Voice Changer decided to write this tutorial, showing you how to connect AV Voice Changer Software Diamond with Curse chat.
What is AV Voice Changer Software Diamond?
It can modify and change your voice to any voice in real time. Simply connect the software to Curse chat, change your voice with a few clicks and enjoy the result. The best thing about
AV Voice Changer Software Diamond
is that it has the ready-to-use presets called Nickvoices and a whole
Add-on store
to download more updated presets. The possibilities are limitless with these adjustments.
Useful link:
Voice Changer Software Diamond 9.5 Screenshots
What is Curse voice chat?
If you are a true gamer, you must have known about Twitch. Curse is now a part of Twitch. Curse chat is a professional software for gaming voice chat with many cool features, good navigation and in-game overlay.
How to use Curse voice changer?
We will follow 3 steps here:
Step 1: Adjust AV Voice Changer Software Diamond
- On the main menu, click
Preference (1)
- When
VCS Preferences
window appears, choose
Virtual driver Mode (2)
- Click
OK (3)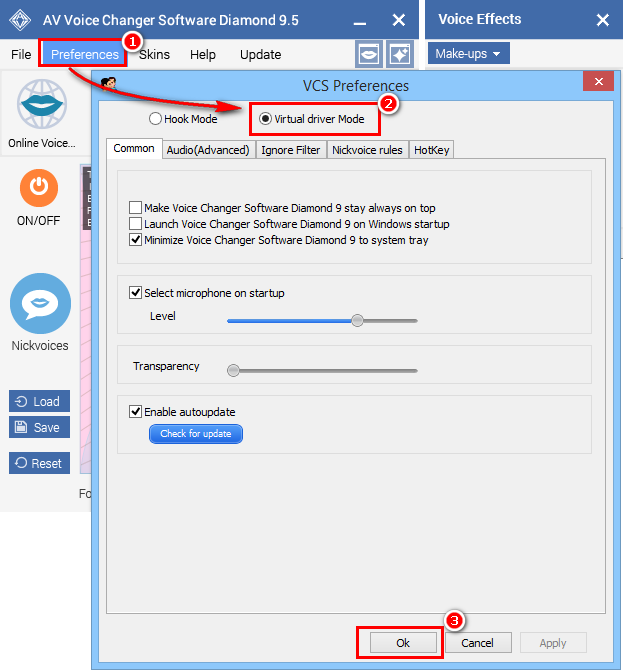 Step 2: Change audio settings of Curse
- Run
Curse
- Click
Setting
icon
- In the new dialog box, choose
Audio/Video
tab
(1)
- Select your
Device
as
Microphone (Avsoft Virtual Audio Device) (2)
- Click
Done (3)
Step 3: Change your voice with Voice Changer Software Diamond
Choose your favorite
Nickvoice
to change your voice in just one click, including:
- Male to female
- Female to male
- For movie maker (ghost, alien, angel, etc.)
- Non Human Voice (dog, bird, etc.)
Remember to check out the
Add-on Store
for more interesting Nickvoices.
Enjoy your game with the new voices.
Related articles about AV Voice Changer Software Diamond:
>>
How to Use Nickvoices for Funny Talks
>>
3 Steps To Troll Your Friends With Yoda Voice